The term inflammation is thrown around frequently and is generally recognized as a bad thing. Inflammation can contribute to health problems but most people are left wondering: "What can I do to reduce inflammation?". Here we discuss what inflammatory foods are as well as 10 anti-inflammatory foods (or food groups). Making the choice to add more of these anti-inflammatory foods into your diet can be beneficial for your overall health and wellness, and provide nutritionally packed meals.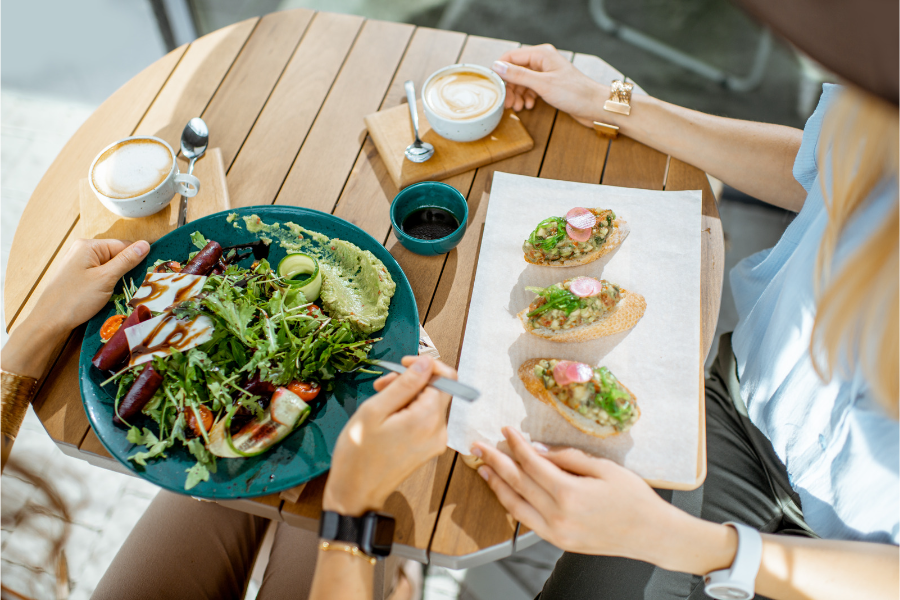 ---
INFLAMMATION IS NOT NECESSARILY THE ENEMY
Let me just get this out first thing: Inflammation isn't a dirty word. Inflammation is a natural process, but with that said it can be a good thing or a bad thing. After an injury, acute inflammation is important to fight infection and promote healing. It brings helpful cells to the area of injury and is a normal bodily response. Now, chronic inflammation is a different matter.
Chronic inflammation in the body is increasingly linked the in the research to many long term health conditions including, but not limited to: cancer, chronic obstructive pulmonary disease (COPD), asthma, arthritis, irritable bowel syndrome (IBS), cardiovascular (heart) conditions, diabetes, stroke, and intervertebral disc disease.
So while inflammation when you've been injured is normal and healthy, maintained inflammation over months or years, is really where the problems kick in.

WHAT TO DO ABOUT INFLAMMATION?
So we know that inflammation is natural but can become problematic over time, which begs the question: what can we do about it?
As you might expect, there is a continuum with inflammation. Some things in our lives cause inflammation (pro-inflammatory) and some things fight against inflammation (anti-inflammatory).
Things like smoking and being overweight are pro-inflammatory lifestyle factors. If you are wondering about what inflammatory foods are, they include heavily processed foods and foods with lots of added sugar.
One major way you can fight chronic inflammation in your body, and likely also reduce pain, is to focus on eating more anti-inflammatory foods. This gives your body a leg up in managing inflammation levels and sets you up for success with managing chronic pain.
TOP 10 ANTI-INFLAMMATORY FOODS
So, what foods should you be adding into your life to fend off dietary inflammation? Let's jump in!

Dark Leafy Greens: When considering what vegetables are good for arthritis and inflammation, leafy greens are one of the most healthy food groups. Think spinach, kale, collard greens, brussel sprouts, and bok choy. These veggies are high in antioxidants and are good for your heart. If you enjoy eating salads, try and opt for darker greens in your salads like romaine, spinach, or arugula, instead of iceberg lettuce, to give you an anti-inflammatory boost.

Blueberries: Blueberries are also high in antioxidants and help fight inflammation in the body. Fresh blueberries are great but if those aren't available, you can opt for frozen blueberries. Bonus points if those frozen blueberries are wild blueberries because those have a higher antioxidant count than farmed blueberries.

Turmeric: This herb has long been known to be an effective alternative treatment for arthritis pain and in some studies has been found to be as effective as pain medication. Whether you use this herb fresh, make a golden paste, or take turmeric supplements, it's one of the best foods for arthritis and joint pain.

Ginger: Ginger has been found to modulate inflammation, particularly joint inflammation, which is present in many different types of arthritis. It can even be blended into smoothies for that anti-inflammatory boost you might be needing.

Green Tea: I know, this isn't technically a "food", but if you are wondering what you can drink to reduce inflammation, green tea is a great start. It's high in antioxidant, and therefore anti-inflammatory, activities and works in a similar fashion to ginger. It's great for modulating inflammatory reactions and has long been shown to be beneficial for multiple chronic health conditions.

Olive Oil: Olive oil is a central ingredient in the Mediterranean diet, which is known to be one of the healthiest ways of eating. This oil delivers healthy fatty acids which are crucial to optimal functioning of our cardiovascular and neurological systems. Olive oil also shows anti-inflammatory benefits and is correlated with increased vitality during the aging process.

Walnuts: Walnuts are a good source of healthy fats and omega-3s, which have been shown to decrease inflammation and are particularly protective to our cardiovascular system. Be sure to get these in their "raw" form for the most benefit.

Legumes: Legumes (as well as many other veggies) contain phytochemicals which have been shown to decrease risk for cardiovascular diseases and have anti-inflammatory properties. Stocking up on chickpeas and a variety of dried beans is a great way to have these on hand when needed. PRO TIP: If you have an InstantPot, you can cook dried beans ridiculously fast for an easy addition to a meal.

Whole Grains: I'm sticking with gluten-free whole grains here as some people find that gluten exacerbates their arthritis pain. The good news is there are lots of options that don't include gluten: buckwheat, wild rice, steel-cut or rolled oats, and quinoa are a good place to start if you're looking to add some healthier grains to your diet.

Mushrooms: The oyster mushroom, in particular, is considered to be a functional food to control inflammation in the body by preventing cells from traveling to areas of chronic inflammation.

There are so many great food choices here! I encourage you to pick two or three options from this list that you enjoy and whip up an anti-inflammatory meal!
OTHER WAYS TO REDUCE INFLAMMATION
Diet is not the only way available for us to reduce inflammation. Regular physical activity or exercise is also shown to have anti-inflammatory properties. This is especially important with people diagnosed with osteoarthritis. There is a popular phrase in the Physical Therapist community: if you don't use it, you lose it. So, even just starting a short walking program is a great way to get a little more movement into your day and maintain your mobility!
If you are curious about how to reduce inflammation in the body fast, adding in quality essential oils is a great choice. Due to their concentrated nature, essential oils, from plants that already have anti-inflammatory benefits, are power packed and can lend a hand to reduce inflammation.
For more information on how I use essential oils to address common health concerns check out my free training here.

As always, stay strong, stay positive, and always be learning!
---
Not a Substitute for Medical Advice. The information provided in this blog, website, webinars, documents, audio, videos, and associated products is for educational purposes only and is not intended to be a substitute for professional medical advice. Dr. Lowry provides training, educational, coaching and learning opportunities for her clients. Dr. Lowry and her clients are advised to seek the advice of a medical or mental health provider, dietician or other health care provider prior to starting or making a change in diet, exercise, lifestyle, medications or nutritional supplementation.